All Arya boats for sale in North America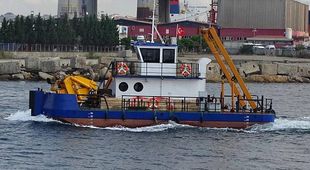 MULTICAT / MOTOR BARGE 15M MULTICAT / MOTOR BARGE CLASSIFICATION BUREAU VERITAS DIMENSIONS Length OA: 15.85 m Beam OA: 7.00 m Depth at sides: 2.25 m Draught Aft: 1.60 m Displacement: 80 tons TANK CAPACITIES Diesel Oil : 25 m3 Fresh Water : 2.75 m3 Ballast : 19.5 m3 PERFORMANCES Speed: 10 Knots PROPULSION SYSTEM Main Engines: C13 500 Total Power: 760@2000rpm Propulsion: Fix Pitch Propellers AUXILIARY EQUIPMENT Main Generator: 23 kVA Pumps: Bilge/Fire/GS DECK LAYOUT Anchor Windlass: Available Anchor Handling Winch : Available Deck Crane : Available A Fra...
read more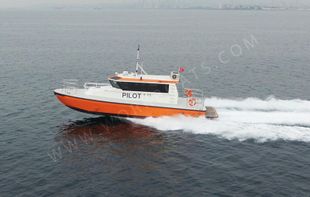 15M PILOT AND PATROL BOAT DIMENSIONS Length OA: 14.95 m Beam OA: 4.00 m Depth at sides: 1.80 m Draught Aft: 0.60 m Displacement: 12 tons TANK CAPACITIES Fuel-Oil: 2.00 m3 Fresh Water: 0.40 m3 Grey Water: 0.20 m3 PERFORMANCES Speed: 32 Knots PROPULSION SYSTEM Main Engines: 2x FPT N67ENTM45 Total Power: 2x 420HP Gear Boxes: 2x ZF 220 / Ratio : 1.128 Propulsion: 2x DOEN DJ110 WaterJet AUXILIARY EQUIPMENT Main Generator: 1x Sole Diesel 7GSC - 6.6kW Pumps: Bilge/GS/Fire/Air Condition DECK LAYOUT Anchor: 1x18 kg Chain: 10mm 50mt NAUTICAL AND COMMUNICATION EQUIPM...
read more
Year:
2018
Length:
49'
Location:
USA
Price:
€420,000

View Details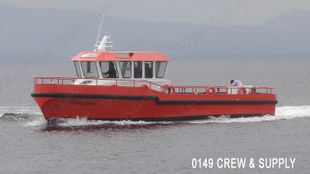 A modern twin screw steel, high speed, single chine semi-displacement vessel of standard design suitable for wide range of marine operations specially for crew transport duties in both sheltered and coastal waters in harbour areas. Maximum speed not less than 18 knots. The Vessel is to be designed twine screw crew boat built in accordance with general arrangement plan that comply this specification. The hull is to be welded steel construction and wheelhouse is to be welded Aluminum construction. Principal Dimensions Length Overall 14.950 meter Bea...
read more